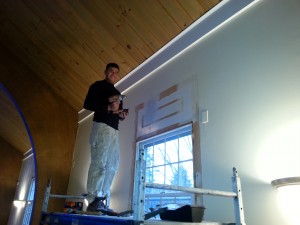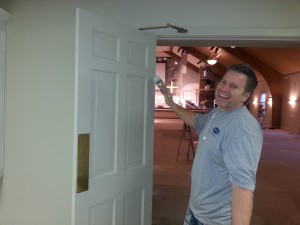 Customers always tell us how comfortable they are with Heinold staff working in their homes or businesses. We employ the highest quality craftsmen to ensure the highest quality work, and we train our staff to ensure their knowledge of the newest products.
I would highly recommend Heinold Home Improvement for any painting or remodeling project. Jamie and his crew painted several rooms in my home, refinished floors, installed crown molding, and removed and patched the openings left from in-wall air conditioners.
Jamie's advice on wall color choice was perfection. The trim color coordinates beautifully with the walls and the office furniture. I'm a graphic designer and I work with color constantly. Jamie's suggestions were far better than what I had chosen myself. The floors look great. Dents and scratches from 70 years of use (including badly installed old wall-to-wall carpeting) are completely gone.
The workmanship was perfect. The crown molding is seamless, and the work was done on time and clean-up was done thoroughly on a daily basis through completion. You can't even tell where the old air conditioning units were. The Heinold crew did an excellent job of matching my aluminum siding which is over 30 years old. I've already hired the Heinold team to come back and do some more work!
Heinold Home Improvement painted the interior of my home including all closets, trim, ceilings and walls. They also gutted and remodeled the kitchen and bath, replaced some wood floors and refinished the rest, and installed new doors throughout.
Mr. Heinold was a joy to work with. He was always on time with all his promises, had very dependable craftsmen on staff and the workmanship was top notch from tiling, plumbing, painting etc. They were all professional and very clean and stand behind all the work that they do. They are perfectionists when it comes to their work. Great job! You definitely get what you pay for.
Heinold Home Improvement renovated our family room which involved removing the suspended ceiling and shingle walls and replacing them with sheetrock. They then painted the whole room including trim, walls, ceiling and built-ins. The room looks great!
The guys were prompt, neat and clean. This is the second job they have done for us and we are so happy we have another one in the works. Great painters!
Contact Us
Heinold Home Improvement LLC
PO Box 28, Pompton Plains, NJ 07444
Phone: 973.835.7763